Blitz® was present at ITC LATAM 2023, the first edition of InsureTech Connect for Latin America.
InsureTech Connect is the world's largest event for insurance industry leaders and innovators, and its first LATAM edition, held in Miami, Florida, April 23-26, 2023, provided a valuable opportunity to network, collaborate and showcase innovative solutions for the industry.
At Blitz®, we specialize in automating the commission and bonus calculation process. During our participation as a vendor at ITC LATAM, we were able to demonstrate the exceptional value we offer to companies in the insurance industry and how we can become their strategic ally in improving variable compensation management and payments.
Sergio Zúñiga, CEO of Blitz®, mentioned that he attended the event with the objective of listening and investigating new trends in the insurance market, as well as discussing the direction the industry will take in the coming years. He commented that several insurance and technology companies were present in order to find solutions that will allow them to attract new clients and offer a higher quality service to consumers who are already part of the market.
The presence of numerous suppliers at the event reaffirmed the wide range of solutions available to insurance companies. Blitz® stands out as a specialized provider that offers a solution to address challenges in manual commission processes and has the ability to integrate with various technology platforms.
Among the sponsors at the event with whom we interacted were:
Glia: a customer service platform that offers advanced tools for seamless communication between companies and their customers.
Equisoft: company specialized in digital transformation solutions for the insurance and wealth management industries.
Inventiva Solutions: a provider of software solutions designed specifically for the insurance industry.
Sistran: a recognized provider of software solutions for the insurance industry.
In Motion Group: a company that offers comprehensive consulting and software solutions for the insurance and financial services sectors.
Formotiv: a company specialized in the development of innovative and easy-to-use software solutions.


These companies complement Blitz® offering and demonstrate the diversity of technological solutions available in the insurance market. With its specialized approach, Blitz® is positioned as a reliable option for insurance companies looking to improve their commission and bonus processes and adapt to the digital era.
In addition to insurance industry executives, there was interaction with industry leaders and experts. Among them were Jeff Hickam, Enterprise Account Executive at ForMotiv, and Damiano Massimi, Senior Engagement Manager at Munich Re. This interaction further validates Blitz® commitment to delivering cutting-edge technology and providing value to industry professionals.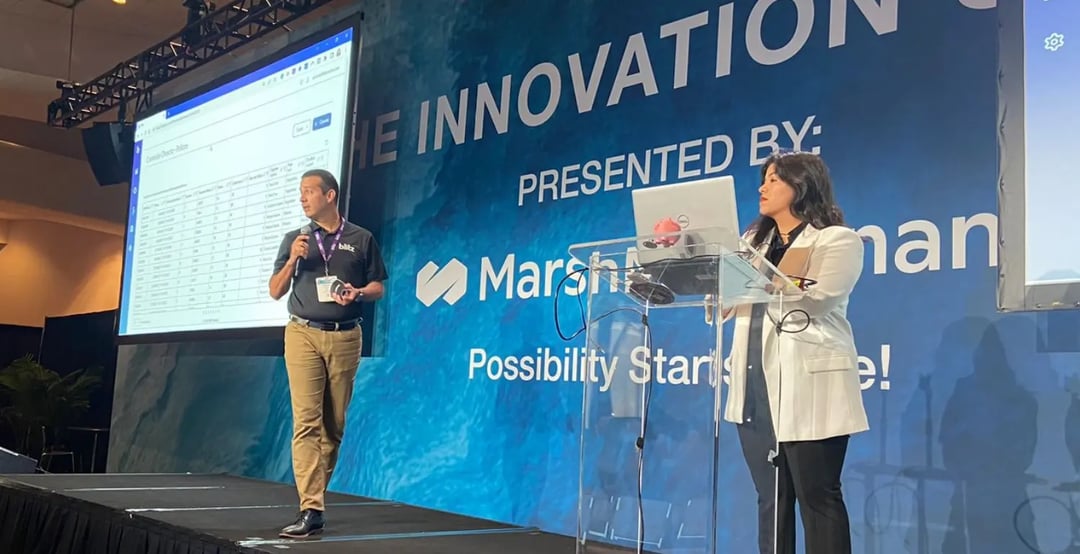 Blitz® excelling on the Innovation Stage
Sergio Zúñiga, CEO of Blitz®, and Diana Ceballos, Technical Sales Rep, conducted a real-time demonstration to show how Blitz® can help companies simplify and automate the calculation of commissions and bonuses. In this demonstration, emphasis was placed on how our advanced technology enables more transparent and accurate management of variable compensation, which is critical to motivate and incentivize sales teams.
The Innovation Stage was sponsored by Marsh McLennan and featured innovative solutions such as Claims Services, Clupp, Betterfly, Momentum Brazil, Ahorra Mexico, among others.
In addition, the establishment of the "Pacific Insurtech Alliance" was announced, which is composed of the insurtech chambers of Mexico, Chile and Colombia. This alliance aims to implement a series of strategies to promote joint development and mutually empower each other in the sector.
Some of the CEOs of the most important insurers in Latin America, investors and industry experts meet year after year in this event that offers conferences, panels, exhibitions, in addition to presenting some of the trends and innovations related to the insurance sector.
See you at ITC LATAM Vegas
The ITC LATAM Las Vegas event, which will take place from October 31 to November 2, 2023, will be especially noteworthy as it will feature a 100% Latin chapter for the first time. This major event will bring together more than 9,000 attendees from around the world, representing more than 100 countries and bringing together prominent leaders in the insurance industry. At Blitz®, we are excited to be part of this event as a sponsor again.
At Blitz®, we remain committed to providing the best commission automation solution in the insurance industry. Our focus is on efficiency and customer satisfaction, and we are ready to drive growth and transformation in the insurance industry in the Latin American market.


For more information about ITC LATAM Las Vegas, click here.