The countdown for InsureTech Connect LATAM has begun! In just a few days, this leading event in technology and insurance will open its doors, and we are excited to announce that Blitz® will be present.
This year, InsureTech Connect LATAM will be held at the iconic Hotel Fontainebleau in Miami, Florida. This location will be the perfect setting for insurance industry leaders to gather and discuss the latest technological trends and innovations.
As a commission automation software, Blitz® is pleased to participate in this event and showcase how our tool can simplify and automate commission calculations for the insurance industry.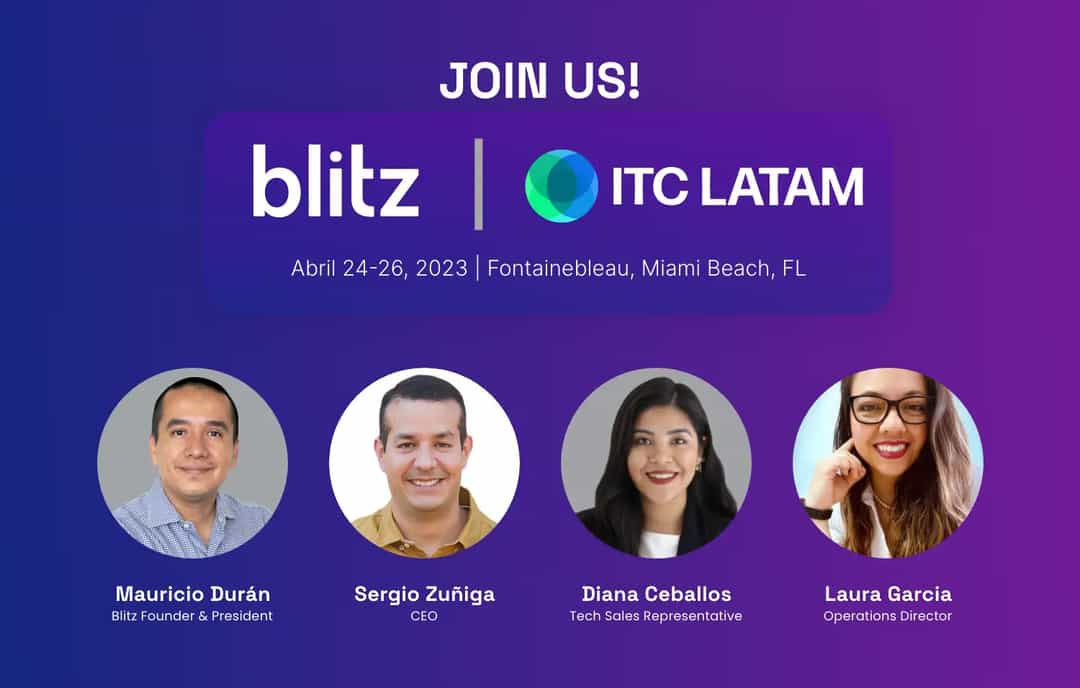 ITC LATAM serves as the largest insurtech event that offers unparalleled access to the most comprehensive and global gathering of tech entrepreneurs, investors, and insurance industry incumbents.
From CEOs of important insurers across LATAM to investors and experts looking to transform the industry, we are ready to be part of this annual event that offers meetings, panel discussions, keynote interviews, and demos.
Our CEO and key members of the team will attend the Insurtech event. This event is a great opportunity for us to network with other industry leaders, showcase our products and services, and learn about the latest technological advancements in the insurance sector. Our team looks forward to engaging with attendees, sharing our expertise, and gaining valuable insights from other professionals in the field.
" It's the first time we will showcase our solution at this event, and we look forward to networking and meeting some of the biggest industry leaders and innovators. Our team is excited to be a part of it!" said

Sergio Zuniga,

our VP of Sales & Marketing.
Blitz® is scheduled to participate in the Innovation Stage at the Expo Hall showcase with an exciting 8-minute demonstration on how our solution can help insurance companies optimize their commission management processes and eliminate calculation errors.
The demonstration will offer attendees a firsthand look at how easy it is to use Blitz® platform, which provides transparency in commission processes, ensures accuracy, real-time reporting, and complete automation.
"ITC is one of the world's largest gatherings of insurance leaders and innovators, and I'm particularly excited to showcase Blitz® here. We look forward to participating in this event and sharing insights with the ITC community in Miami" said

Laura Garcia, our Operations Director.
If you are looking to solve some of your biggest commission management and technological challenges, please stop by and say hello to us in our booth (#207) during InsureTech Connect.
For more information about ITC LATAM, click here.